HairPrime
Clinically Proven
Six years of scientific research has culminated in the development of botanically-based hair formula that CAN and DOES promote healthy hair growth in men and women, when used consistently over a period of time.
PROVEN and confirmed in a " Double Blind Study" published in the Journal of Dermatological Treatment, October 1996, the use of HairPrime with a 7.5% herbal extract (Trademaked as Phyfermanol) by study participants demonstrated a 77% average increase in total hair count and 169% average increase in their mature hair count.
The results of the studies have been presented by reputable physicians, academicans and scientists in ethical forums such as the American Academy of Dermatology Conference (New Orleans) and the Hawaii Dermatology Conference.
HairPrime was clinically proven to:
Increase hair count
Increase hair length
Increase hair weight
Convert baby fine hair to mature hair (i.e. melanization)
"Average total hai counts for subjects using the active cream increased by 77.4% compared with a 3% increase for placebo-treated subjects."
HairPrime Gets Results
HairPrime has been sold in the US and selected international markets since 1992. Thousands of people, men and women of all age, have experiences successful results with HairPrime. This is not a hit or miss program but a scientifically proven regimen that yields visable, real and testimonial supported results. The following comments are from successful users of HairPrime:
"I have been using HairPrime for exactly one year today and cannot thank you enough... I started your program in April... by July I had new tiny hairs visible... in September my panic subsided, by Christmas I was quite pleased - and now I 'm absolutely thrilled! My hair looks great!" B.S, Cinnaminson, NJ.
"I began using HairPrime...because of thinning in the frontal area of my scalp due to hormonal changes from Menopause. It is now filled in and my hair in general feels thicker." L.K., Atascadero, CA.
"I felt as though I was condemned to being bald...My wife came home with this product... Over a period of several months, there began to appear new growth... HairPrime really changed my life... I feel more confident in public. I began to see results at approximately three to four months." J.V. San Rafael, CA.
Although our studies and actual experience with HairPrime users have demonstrated less than unanimous success, we believe that the significantly high percentages in the desirable results achieved and reported are enough to encourage others to seriously consider HairPrime in the treatment of thinning hair.
Blend Of Biotechnology & Nutrition
HairPrime represents a delicate balance of science and herbology. Our unique system consists of a scalp cleansing Herbal Shampoo, a topical Scalp Primer treatment solution, a topical Herbal Lotion scalp conditioning treatment and an Herbal Supplement. The Shampoo and the Lotion contain the active herbal extract, Phydermanol. The Scalp Primer is a liposome enriched solution of herbs and other ingredients intended to enhance or complement the effects of the active ingredient. The Supplement provides seventeen selected herbs and three key vitamins and minerals recognized in herbal medecine or published research to contribute to the health of growing hair.
This balanced program of body nutrition, cleansing and conditioning is aimed at revitalizing the scalp and promoting a healthier enviroment for hair to grow. The herbal ingredients and extraction provide the unique factors which have been proven to be effective.
What You Can Expect
HairPrime is a daily treatment that requires regular and responsible compliance for at least two to six months to determine effectiveness and up to one year in order to achieve the enriched, thicker hair experienced by satisfied users. Your thinning hair did not happen overnight and the process is still going on. It must be stopped , then reversed. The approach to build a long-term, longer-lasting healthy enviroment for hair to grow takes time and commitment on your part. Once you have achieved the desired results, you may only need to use HairPrime once or twice a week to maintain your healthy hair.
If HairPrime works for you, you may experience:
Thicker, richer, healthier hair growth

Hair growth which is faster, stronger and longer

Remelanization, i.e. the natural color of your hair may return naturally
How HairPrime Works
The published clinical study stated
"The results of the study demonstrate that the active cream was significantly more effective than the placebo cream vehicle in the treatment of androgenetic alopecia. The herbal extract had 5-alpha reductase inhibition activity. However, the preparation demonstrated additional activity that requires furthur research."
-Journal of Dermatological Treatment, (Volume 7, 1996)
The majority of hair loss victims are classified under androgenetic alopecia, more commonly known as male pattern baldness. One of the leading theories causing androgenetic alopecia is the formation of DHT which adversely effects the hair follicle leading to the loss of hair.If patented herbal compound of HairPrime effectively blocks the formation of DHT through its inhibition of 5-alpha reductase activity, then such action would be a factor in HairPrime's combination to a healtier enviroment for hair to grow.
Normally each hair on your head grows 1/2" per month for 3-5 yrs, then falls out and is replaced by another hair. Adverse factors can reduce the cycle to an average of 3-5 weeks.
HairPrime is aimed at providing healthy factors and nutrients to counter the effects of unhealthy hair factors such as DHT (dihydrotestosterone), stress, and diet which may adversely affect the follicle causing the hair to fall out before the hair has a chance to grow into a mature, terminal hair.
Program Products
HairPrime Herbal Shampoo is specifically formulated to gently bathe and nourish your hair while cleansing the scalp to achieve healthier support enviroment.
HairPrime Scalp Primer treatment is a liposome and vitamins is a liposome and vitamins enriched herbal complex formulated to prime the scalp by seeking to enhance or compliment the effects of the active ingredients by applying factors we consider healthy for the hair and scalp.
HairPrime Herbal Lotion/Cream is the specific preparation used in the study containing the patented botanical extract, Phydermanol. The herbal formula conditions the scalp to create a supportive enviroment for healthy hair follicles.
HairPrime Herbal & Vitamin Supplement is a balanced formula of seventeen selected herbs and three key vitamins and minerals recognized in herbal medicine or published research to contribute to the health of growing hair.
"When I was first introduced to HairPrime, I was extremely skeptical, but after our intensice research confirmed the effectiveness of HairPrime is 90% of the indivuals tested, I became a believer. I am convinced that HairPrime is superior to any other thinning hair product."
--Martin Katz, Senior VP of Research, Syntex, retired. Co-author of "Treatment of androgenic alopecia with a 7.5% herbal preperation"---
Journal of Dermatological Treatment (Vol 7, 1996)
It is up to you to research and verify the real alternative solutions and take the positive steps to overcome thinning hair problems. We, at Universal Biolic, are available to discuss whether HairPrime is the right alternative for you.
Male Subject Before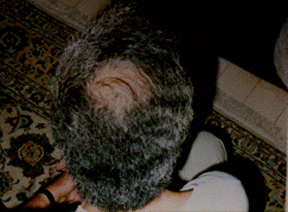 Male Subject After
Remember HairPrime is
Clinically proven to

Increase hair count
Increase hair weight
Increase hair length
Convert baby fine hair to mature hair
A natural herbal preparation
A patented formulation
A major alternative step towards treating thinning hair scalps